Unsere Aktivitäten
Was sich im letzten Jahr so alles ereignete, können Sie dem Bericht unseres 1. Vorsitzenden, Robert Tonks, anlässlich der Jahreshauptversammlung 2015 entnehmen.
Deutsch-Britische Gesellschaft Duisburg
Jahresüberblick 2015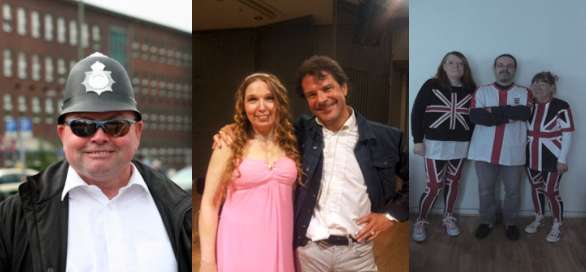 Auszeichnung für die Stadt Duisburg als "Europaaktive Kommune NRW"
7. Januar
Ratssaal, Rathaus Duisburg. Im Rahmen eines Festaktes überreichte Angelica Schwall-Düren, Europaministerin des Landes NRW, heute im Rathaus Duisburgs Oberbürgermeister Sören Link die Auszeichnung "Europaaktive Kommune". Die Ministerin lobte insbesondere die wichtige Arbeit der Duisburger internationalen Gesellschaften. Anwesend waren Vertreter aus Politik, Verwaltung und Gesellschaft sowie eine Delegation aus der niederländischen Stadt Nimwegen, die von deren Bürgermeister Bruls angeführt wurde.
Happy New Year 2015!!!
8 January
Our first meeting this year was at Jedermann, Duisburg-Neudorf, on Thursday, 8 January 2015, 7 p.m.. This was followed by our meeting for the PANCAKE RACE, at Wanheimer Kanu Club, Shrove Tuesday, 17 February. Torrential rain forced us to cancel the race planned to take place outdoors but we made up for it indoors with Edda's delicious selection of all kinds of sweet and savoury flavoured pancakes.
5 March
We met at Jedermann, Kolonietraße 99, Duisburg-Neudorf, at 7 p.m.. We had to plan and talk about this summer's fun event. We also discussed our participation in this year's dragon boat race and joining the summer bbq at 'Societät'. Our April meeting was at Jedermann, Duisburg-Neudorf on 9 April 2015.
Europatag
8. Mai
Pauluskirche, Duisburg-Hochfeld. Anlässlich des Europatages am 9. Mai feierten wir Europa gemeinsam mit der Irischen Band der Evangelischen Gemeinde Meiderich. Die Moderation übernahmen Paola Malgeri-Knaup und Robert Tonks. Die Veranstalter waren die Regionale Arbeitsgruppe Rhein-Ruhr West von Gegen Vergessen - Für Demokratie e.V. mit der Deutsch-Britischen Gesellschaft Duisburg e. V. und weiteren internationalen Gesellschaften
Dragon Boat Training
28 May
Alte Feuerwache, Duisburg-Wedau. This year's Dragon Boat training was at Alte Feuerwache. There was a bbq and a drink for everyone whether people were fit to brave the elements or not. Our goal this year was to come even more last than last year. So we needed all the most dreadful paddlers we could muster.
Summer Party at the Zoo
12 June
This year's summer party of Societät Duisburg took place at the Zoo Duisburg on 12 June 2015 to which the members and friends of Deutsch-Britische Gesellschaft Duisburg, Deutsch Französische Gesellschaft und die Deutsch Italienische Gesellschaft.were invited.

"Sommer ist die Zeit, in der es zu heiß ist, um das zu tun, wozu es im Winter zu kalt war", Mark Twain. Genau dieser Satz passte zum Abend – wir erlebten einen heißen Sommertag. Gut, dass es zum Abend etwas abkühlte. Es war alles festlich geschmückt; vom Eingang, über das Treppenhaus, vorbei am Kaminzimmer bis hin zum Blumenschmuck auf den geschmackvoll gedeckten Tischen in den Sälen. Aber auch die Terrasse stand dem in nichts nach. Nur mit dem Blick auf Elefanten, Giraffen & Co. war es nicht mehr weit her, sie suchten bereits am Anfang unseres Festes ihre Nachtquartiere auf. Aber wir wurden mehr als entschädigt: Enter the guest of honour HM Queen Elisabeth II (Bob Clark) aaaand Mrs Tempel sipping bubbly on a tiger and wearing a royal blue dress with matching blue suede shoes. Devastating.

Die vier Vorsitzenden, Herr Dr. Ralf Tempel, Herr Robert Tonks, Herr Wolfgang Schwarzer und Frau Enza Ruffini-Webb begrüßten die Gäste, damit war das Fest offiziell eröffnet. Der Abend wechselte in die Nacht, wie im Fluge ist die Zeit vergangen. Ein wahrlich gelungenes Sommerfest. Auf Wunsch vieler Mitglieder sollte dieses Fest im nächsten Jahr wiederholt werden.

Robert Tonks fragte die Anwesenden, ob er ihre Mobiltelefone mit "Handy Oil" ölen könne oder wer in einer "handy flat" wohne?
Dragon Boat Race
13 June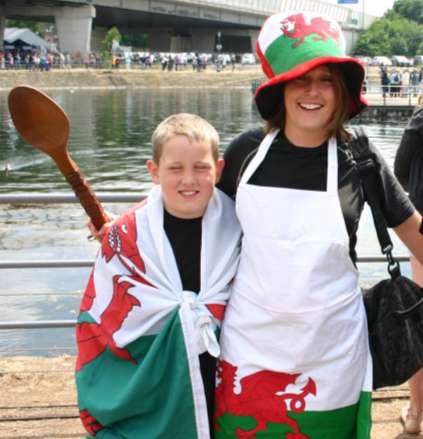 Innenhafen Duisburg. The World's largest dragon boat race - as recorded in Guinness Book of Records – took place in Duisburg. It was on all weekend but our group met as last year at Pier Eins. Our race was scheduled for 3 p.m. By then, we had quite a few sick notes so WE NEEDED MORE PADDLERS - FRIENDS WHO WERE WILLING TO HELP !!!
NB: Our aim was TO COME LAST; after all, we commoners, mere subjects of the Crown were conveying Her Majesty who had alot of waving to do. The slower we went, the more waves she accomplished, the more the crowds cheered.
Introducing the World's best Welsh dragons…
P.S. In the 2015 Dragon Boat Race, we came 14th and last - a vast improvement on 2014 when we came 9th and last.
Summer BBQ
9 July
We met at Wanheimer Kanu Club on 9 July for a bbq. Reports and pictures of our fun-packed joint events in June with Societät Duisburg and Dragon Boat Race at Innenhafen Duisburg were shown and exchanged. Our regular meeting on 3 September was at Cafe im Stadtfenster, Steinsche Gasse, in the newly opened Stadtfenster.
Last Night of the Proms at Burg Linn
12 September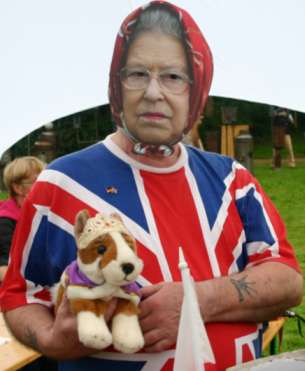 At the 2015 Last Night of the Proms at Burg Linn, Krefeld, Deutsch Britische Gesellschaft Duisburg turned up with 53 enthusiasts despite the drizzle, forming as is our tradition by far the largest group.
Open Air Proms Concert - British Flair
8 October
On 8 October, we met at Greek restaurant Hellas opposite City Hall for a meal and on 5 November OUR 2015 GUY FAWKES BONFIRE NIGHT TOOK PLACE ON THE EAST BANK OF THE RHINE AT KANU CLUB WANHEIM.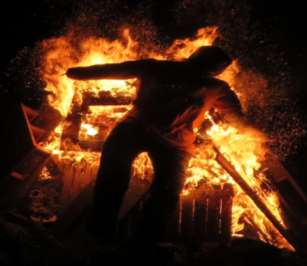 Guy by Des Jarvis
Due to severe bouts of flu, colds and a case of shingles impacting on key players involved in planning our Alice in Wonderland event planned for 7 November over the last couple of weeks we were unfortunately forced to cancel. We are now looking for an alternative date in the new year.
4 December
This year's annual general meeting with subsequent Xmas party took place at Wanheim Kanu Club.
We wish the members and friends of Deutsch-Britische Gesellschaft Duisburg Merry Xmas and Happy New Year 2016!
Robert Tonks
(Vorsitzender / Chairman)
Archivierte Jahresberichte
---

Jahresüberblick 2015

Jahresüberblick 2014

Jahresüberblick 2013

Jahresüberblick 2012

Jahresüberblick 2011

Jahresüberblick 2010

Jahresüberblick 2009

Jahresüberblick 2008

Jahresüberblick 2007

Jahresüberblick 2006